To my good readers, friends, and colleagues:
As of now, I am sitting at my computer, headphones blaring Deadmau5, wrapped in my favorite old grungy hoodie, my skull covered by a week's worth of stubble and a formerly brown (now grey-green, damn Aussie sun) woolen beanie. In front of me is a bowl of chicken Ramen, some Earl Grey tea, and a plate of buttered Turkish bread. Inside of me, is about four days worth of anti-histamines, vitamins, and generic ibuprofen.
Oh, and that frukking virus that I have, along with half the world at the moment.
What's "frukking", you ask? Not self-censorship as some have said. No, it's the word that replaced our world's much beloved f-bomb inside the confines of my own, in my short stories and "Burning the Roads Behind Him", and what I have now titled the second novel, "The Shadows that Consume". I've had the few close friends who've read the first draft of "Burning the Roads" turn around after reading, and ask why I put "fruk" as the main curse word of choice. They ask if I'm censoring myself, and I couldn't help but laugh at that, especially since they know me well enough to know that I despise censorship in all forms. I would hope they would at least. I won't even delete a flaming comment on my youtube account, cause I think they're entitled to their opinion, no matter how stupid they are.
My friends, this here be a:
As much as that image makes me proud, it reminds me just as much of the old fallout shelter signs around Clifton in Cincinnati. Granted, it's supposed to remind you of that. However, the fact we NEED to be reminded of a relic of a time when every waking moment was shadowed by the fear of the superpowers of the world deciding that it was a good day to turn the world into a post-apocalyptic hellhole, is needless to say, a sad and frightening statement of the times we live in.
Sadly, the REAL post-apocalypse doesn't promise to be this freaking epic.
Fear not, denizens of the web. This Blog is safe from super mutant behomoths, and insofar, Big Brother (I hope). Despite my friends believing that my use of the word "fruk" is self censorship, they're forgetting I hate it, and that there's this rather important aspect of speculative fiction called WORLD BUILDING which kind of keeps me from using a rather distinct word such as "fuck", in a world that is not our own.
But that's for another blog.
Censorship. Something I'll touch on quickly, and shortly. When the internet started, we all hoped that it would be a free wide world of information, a veritable new wild west, to explore, chart, and connect in. However, many lovely government restrictions around the world have been slowly trying to grip the noose around liberty's neck. I left the USA partially because of the issues I had with the government, and still have not gone back because, well, it's the same old shit in different packaging. I moved to Australia, for love, and hopefully for increased freedom.
Then I learn about THIS bullshit.
Now, luckily, the Australian Senate plans on stonewalling this shit, but this isn't the first time the Aussie government has tried this apparently. Oh, hell no. John "Australia's Dubya" Howard's government, tried this thing as well. But he was a different party, the Liberal party. A party diametrically opposed to the Labor government that had the Prime Minister slot from 2007-2010. They couldn't POSSIBLY do the same--
"Since 2008, the governing Australian Labor Party has proposed to extend Internet censorship to a system of mandatory filtering of overseas websites which are, or potentially would be, "refused classification" (RC) in Australia. This means that internet service providers would be required to block access to such content for all users." - Wikipedia.org
Huh...
Well, there's an Aussie election recently, right?
Oh... That counts as a tie in Aussie politics...
Well, what about the rest of the Western World's democratic parties?
UK 2010 Election Spectrum


Australian 2010 Election Spectrum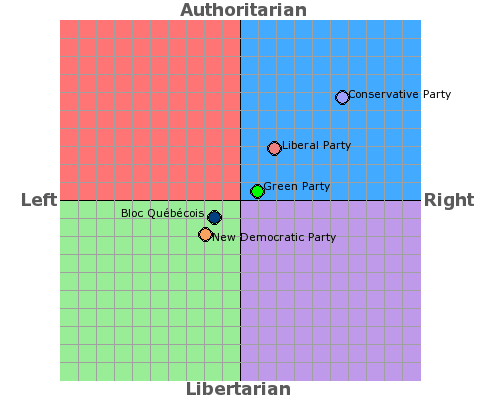 Canadian 2008 Election Spectrum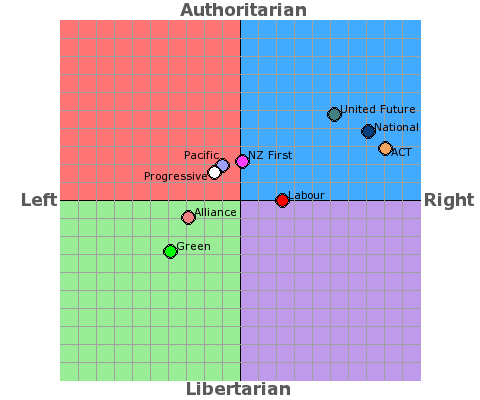 New Zealand 2008 Election Spectrum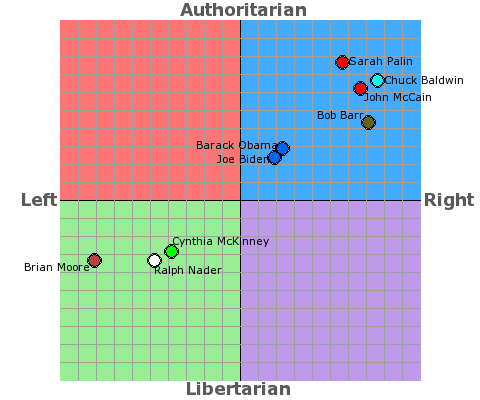 US 2008 Election Spectrum
The point I'm trying to make here, is that governments in general are full of shit. If you're paying attention to these charts, every mainstream political party that wins majority seats, oh so often, is resting FIRMLY in the Authoritarian quadrant. No matter who you "vote" for, they're gonna pull the same shit, over, and over, and over.
Now for those of you who say "Oh, come on, they're not THAT bad", this is the Webster's definition for Authoritarian:
au·thor·i·tar·i·an; adj
: of, relating to, or favoring blind submission to authority authoritarian parents>
: of, relating to, or favoring a concentration of power in a leader or an elite not constitutionally responsible to the people authoritarian regime>
Definition two, being the most politically applicable, is what we need to be looking at here. A large theme in my work is saying how there is no black and white, good and bad. There is only varying shades of grey. That's a depressing thought, surely, especially looking at these statistics, but honestly, we're all pretty screwed unless we stand up for our rights, not guaranteed by a constitution that will be ignored, but our basic human rights. Freedom to say what we want, freedom to do what we want, freedom to earn/buy/sell/create/fuck/eat/smoke/drink/own what we want. Censorship will try to be enforced on us in some way, somehow. Government is inherently authoritarian, as you can see here.
Blame that on whatever you want, or whatever makes sense to you. I'm not here to shove my thoughts on what causes it down your throat. That's what YOU need to decide. Do some research. Take the first step. If you keep going, you're on the road to keeping yourself free.